Platinum Professional Training delivers some of Australia's leading and most affordable online courses. Courses are ideal for anyone seeking to get a nationally recognised accounting qualification in a flexible and cost effective manner.
Platinum's online courses are ideal for anyone who is seeking:
The flexibility to study online after hours and on weekends
The ability to incorporate study into a busy schedule, ie, work, family, etc
A formal accounting qualification
To secure work in accounting or bookkeeping either full time, part time or as a side gig
To advance in the accounting sector, promotion, new job, etc
The option of setting up or running their own accounting business

What is e-Learning
e-Learning is the delivery of training and education courses online. It means undertaking a course online on a self-paced basis, which saves time and money. It is suitable for anyone who needs flexibility and can not commit to attending physical classes.

Platinum Professional Training e-Learning Courses
Platinum offers a range of online e-Learning courses all supported by online and phone help:
Use the table below to find the ideal course.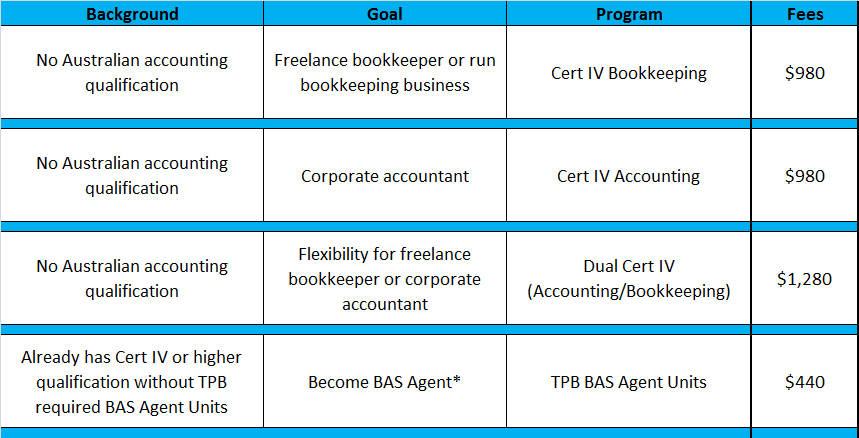 * Refer to TPB BAS Agent Entry Requirements here

The Platinum Professional Training point of difference:
1. Low Cost – The CHEAPEST Cert IV Bookkeeping course in Australia
2. High Standard – Get assessed by experienced industry experts and Registered Tax Agent and CPA
3. Intensive Support – Receive help, guidance and support via phone and email
4. Business Opportunity – Affiliation with a nationwide CPA Public Practice to mentor you to set up your own business. You do bookkeeping, they do tax returns
5. Great Flexibility – Start anytime, no set order, finish the qualification anytime
6. Considerate Timeframe – You have 18 months to complete the course (not 12 months industry standard).